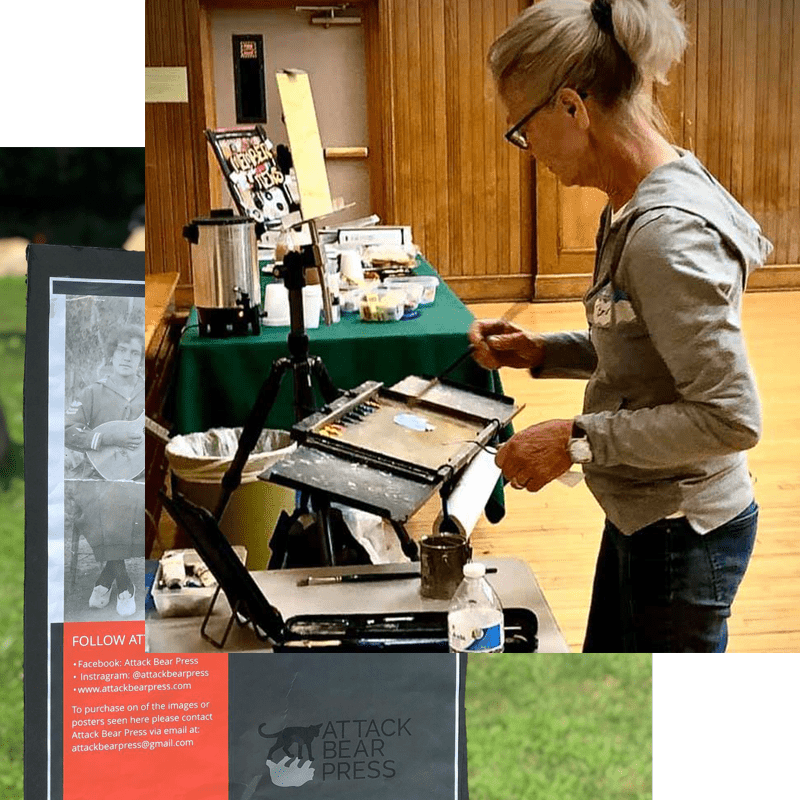 Empowering Local Culture One Project at a Time
We are part of a network of 329 Local Cultural Councils (LCC) across the state, representing every city and town in the Commonwealth. It's the largest grassroots cultural initiative in the nation, and we give nearly $10,000 to Belchertown programs every year.
It's Easy to Apply for a Grant
The LCC grant application process begins September 1, and grant applications are due by October 15.
Create
Attend a Grant Help Desk event, held mid-September, to get feedback on your project or program and assistance with your application.
Grant Awards
BCC votes on grant applications in early December and immediately sends disapproval letters. Approvals are sent in January.
Belchertown LCC Grant Success Stories
Programs by, for, and about Belchertown.
| Recipient | Project | Award |
| --- | --- | --- |
| Ezekiel Baskin | Poetry in the Barn | $750 |
| Davis R. Bates II | Raising Our Voices: Two Summer Reading Performances at the Clapp Memorial Library | $600 |
| Belchertown Senior Center | A Claymates pottery activity | $350 |
| Belchertown Senior Center | A Ray of Elvis and King Kountry musical performances | $500 |
| Belchertown Senior Center  | Sarah the Fiddler musical performance | $450 |
| Britt Ruhe | Common Wealth Mural Collaborative for the Belchertown Skatepark Graffiti Jam | $1,000 |
| Britt Ruhe | Common Wealth Mural Collaborative for the Belchertown Skateboard Paint Party | $1,000 |
| Justine Dymond  | The Examined Life: A Memoir Writing Workshop | $500 |
| Diane Edgecomb | Interactive Summer Reading Performance for Families at the Clapp Memorial Library | $400 |
| Carrie Ferguson | Carrie Ferguson and the Grumpytime Club Band, a Food Truck Friday performance | $500 |
| Laura Hicks | Christmas Concert at Christopher Heights | $220 |
| Dawn LeFever | LeFever, Food Truck Friday performance | $400 |
| Donald Longley | Anillo, a sculpture to be displayed at the Lake Wallace Sensory Trail | $1,000 |
| Gregory Maichack | The Rose: Find Your Voice with Pastel Painting at the Clapp Memorial Library | $525 |
| Jay Mankita | Makerspace Build Along: Chain Reactions! At Chestnut Hill Community School | $800 |
| Rondae Drafts | Hip Hop Chair Dance for Seniors! A Christopher Heights program | $450 |
| David Neill | Belchertown Monday Concert Series on the Common | $1,000 |
| Julia Petersen | Barn Theater & Studios for Making Space for the Fiber-Curious materials | $500 |
| Richard Guimond | The Quabbin Arts Association for their Evening Education Series at St. Francis Church | $600 |
| Sheldon Ross | Windjammer Circus Band Performance | $500 |
| Paul Sticca | Acousticca, Food Truck Friday performance | $750 |
| | | |
| --- | --- | --- |
| Recipient | Project | Award |
| April Jasak-Bangs | Community Mural | $1000 |
| Melissa Hurst | Belchertown Community Band Concerts | $1315 |
| Katharine Blanchard | The Nest: A Literary and Visual Arts Magazine | $650 |
| Sean French-Byrne | Emerging Playwrights Festival | $1000 |
| Cat Milo Keatinge Bezark | The Fairy Festival | $1000 |
| Katie Koerten | Nightwings: A Bat Storytelling Program for Children and | $500 |
| Henry Lappen | Henry the Juggler Performance | $450 |
| | | |
| Jay Mankita | Maker Space Build-Along: Stick-eometry! | $900 |
| Rondae Drafts | Hip Hop Dance Chair Exercise for Seniors! | $380 |
| David Neill | Monday Night Concerts in Belchertown | $1860 |
| Sandra Pearl | Engineering Fun at the Clapp Memorial Library | $515 |
| Julia Petersen | Making Space for the Fiber-Curious | $1000 |
| Rich Plasse | Name That TV Theme | $440 |
| Steven Opalenik | Ampersand Publishing – promethean project | $1000 |
| Sarah Madison | Quabbin Art Association Evening Education Series | $500 |
| Bryan Maroney | QVDG Grand Opening Festival | $1000 |
| Julie A. Stepanek | Learn Ukulele with Julie (a four part series) | $848 |
| Julie A. Stepanek | Music and Movement for Young Children | $656 |
| Janice Murphy | Side by Side with The Valley Winds | $500 |
| Linda Racicot | Drive In Movie Night | $400 |
| | | |
| --- | --- | --- |
| Recipient | Project | Award |
| Steven Opalenik | Promethean Project | $335 |
| Scott MacPherson | Artist Mentoring Program | $200 |
| Arin Andrews | Musical: The Musical | $250 |
| Katherine Anderson Benson | Walk of Reflection Book Walk | $500 |
| Tess Mathewson | Loud and Proud | $500 |
| Janna Walters-Gidseg | Mystery of the Missing Music | $100 |
| Gisele Litalien | Valley Jazz Voices/Karrin Allyson Concert | $300 |
| Mary Jo Maichak | Aesop Fable's 3D Mini Puppet Theater Craft and Virtual Hybrid | $480 |
| April Jasak-Bangs | Walk of Reflection: Belchertown State School | $1,000 |
| Ezzell Floranina | Heros Journey: 70 Year Path | $1,000 |
| Tim Kane | All Together Drumming | $200 |
| Janice Murphy | High School Cadets | $500 |
| Ora McKenna | Gratitude Signs for Common | $400 |
| Linda Racicot | Drive In Movie | $500 |
| Recipient | Project | Award |
| --- | --- | --- |
| Attack Bear Press | Art Week Project | $1,000 |
| David Hyde Costello | Author/Illustrator in Residence | $1,000 |
| Ezekiel Baskin | Songs of Sea and Space Series | $1,000 |
| Belchertown Community Band | Summer Concert Series | $850 |
| SOAAR | SOAAR 5K & Music Festival | $600 |
| Debra Lapointe | Master Gardener of School Pollinator Garden | $600 |
| CHCS PTO | Mad Science Night | $500 |
| Clapp Memorial Library | Rolie Polie Guacamole Concert | $500 |
| David Neill | Premier Swing Band Concert | $500 |
| Belchertown Council on Aging | Dan Kane and Friends | $500 |
| Belchertown Council on Aging | A Ray of Elvis and King Kountry | $500 |
| BHS Writing Club | A Brighter Future | $416 |
| Richard Goldin | Children's Concert at Clapp Memorial Library | $400 |
| BHS Art Society | Literary Journal | $360 |
| Little River Farm | Food Truck Friday Participation | $300 |
| Gregory Maichak | Pastel Paint Your Georgia O'Keeffe Miracle Flowers | $299 |
| Kevin Sypek | Sypek Brothers at Food Truck Fridays | $250 |
| Dorothy Cresswell | Curious Songs for Curious Kids | $125 |
| Recipient | Project | Award |
| --- | --- | --- |
| James Mazzaferro | Musical Performance | $1,150 |
| Belchertown Community Band | Summer Concert Series | $850 |
| Belchertown High School | Peace Poles | $650 |
| David Neill | Premier Swing Band Concert | $605 |
| Davis Bates and Roger Tincknell | A Universe of Songs & Stories | $600 |
| Belchertown Farmers & Artisans Market | Educational Series | $500 |
| Paul Sticca | Acousticca Band at Food Truck Fridays | $500 |
| Chestnut Hill Community School | Reading Party Entertainment | $400 |
| Attack Bear Press | memories of my life: A Walking Myth | $350 |
| Belchertown Art Association | QAA Evening Education Series | $350 |
| Donna Lee Honeywell | In Tribute to Karen Carpenter | $350 |
| Dorothy Cresswell | New Songs for Teachers and Librarians | $300 |
| Clapp Memorial Library | Personal Map Book Workshop | $267 |
| Springfield Symphony Youth Orchestra | Season Premiere Concert | $176 |
| Recipient | Project | Award |
| --- | --- | --- |
| Belchertown Cultural Council | Food Truck Fridays | $850 |
| Belchertown High School Writing Club | BHS Literary Journal | $800 |
| David Hyde Costello | Simple Machines | $750 |
| Paul Sticca | The ChickenYard Band at Food Truck Fridays | $550 |
| Greene Room Productions | Kids' Tour: Danny Champion of the World | $550 |
| Christine Shirtcliff | Creative Journal Expressive Arts Series | $500 |
| Clapp Memorial Library | Banish Misfortune – Traditional Irish Music | $420 |
| Nick Kachulis and Sarah Clay (performing as Skylarkz) | Great American Masters of Song | $400 |
| Arthur & Peter Evans / Makerspace Workshops | 3D Design & Printing / Robotics Workshop | $400 |
| David Maloof | Songwriting Workshop | $350 |
| Davis Bates | Halloween Harvest | $350 |
| Dawn Kelley | Music Is Love – Music, Magic and Comedy | $250 |
| Lori St. Pierre | Blind Painting | $150 |
| Dorothy Cresswell | The Curious Giraffe Show: Libraries Rock! | $150 |
| Springfield Symphony Youth Orchestras | SSYO Premiere Concert | $136 |
| Hilltown Families | Hilltown Families Suggest | $50 |
| Athol Historical Society | Uniquely Quabbin magazine/consortium | $50 |
| Recipient | Project | Award |
| --- | --- | --- |
| Ryan Caster | "A Ticheli Extravaganza" | $750 |
| Davis Bates & Roger Tincknell | Songs & Stories to Build a Better World | $600 |
| David Neill | Jazz Bones Music Concert | $560 |
| Robin Murphy | Global Arts Performance | $545 |
| Tammy Ryan | Belchertown School Gardens | $500 |
| Dale Monette | Quabbin Wildlife | $500 |
| Susan Shea | Art with Poetry | $400 |
| Lori St. Pierre | Abstractions | $385 |
| Makerspace Workshops | 3D Design & Printing / Robotics Workshop | $350 |
| Julie Stepanek | Learn Ukulele with Julie | $300 |
| John Root | Organic Gardening for Everyone | $200 |
| Springfield Symphony Youth Orhcestra | SSYO Premiere Concert | $194 |
| Hilltown Families | Learn Local, Play Local | $150 |
| Susan Shea | Folded Book Art | $100 |
| Recipient | Project | Award |
| --- | --- | --- |
| Jabish Brook Middle School | Jose Gonzales and the New Criollo Quartet | $900 |
| Julie Ann Stepanek | Music with Miss Julie | $600 |
| Susan Shea-Bressette | Art with Poetry | $600 |
| David Neill (Dixieland Stomp) | The Dixieland Music Concert | $475 |
| Diane Edgecombe | Summer Reading Storytelling | $455 |
| Kendra Carney | Food Sustainability at Home | $450 |
| Clapp Memorial Library | Banish Misfortune – Traditional Irish Music | $420 |
| Susan Shea-Bressette | Haunted History of New England | $292 |
| Susan Shea-Bressette | Cake Decorating 101 | $275 |
| Igualdad Education | Puerto Rican Tropical Ecology | $250 |
| Belchertown Council on Aging | Upcycling Workshop | $250 |
| David Maloof | Ukulele Edu-Concert | $250 |
| Springfield Symphony Youth Orchestra | SSYO Premiere Concert | $150 |
| Hilltown Families | Hilltown Families Suggest | $133 |
| Recipient | Project | Award |
| --- | --- | --- |
| Denise Fontain-Pincince | Art with Poetry | $1,453 |
| Donna Lee Honeywell | Connie Francis & Jim Reeves Tribute Show | $600 |
| The Gypsy Wranglers | Swing Dance for the Community | $500 |
| Belchertown Council on Aging | Jimmy Mazz "The King of Cool!" | $500 |
| Belchertown Council on Aging | An Evening of Art with Donna Estabrooks | $400 |
| Clapp Memorial Library | Tales from Asia and Africa | $400 |
| Clapp Memorial Library | Music with Little Ones and Those Who Love Them | $400 |
| Animal World Experience | Wild Heroes | $385 |
| Belchertown Council on Aging | Animal Adventure Presentation | $385 |
| Clapp Memorial Library | Banish Misfortune – Traditional Irish Music | $360 |
| Clapp Memorial Library | Beginning Ukulele for Adults | $350 |
| BHS Art Honor Society | Art, the Earth, and Us | $270 |
| David Maloof | The Ukulele Edu-Concerts | $250 |
| John Root | Organic Gardening for Everyone | $200 |