Relax and enjoy beautiful summer evenings with friends and family listening to the Belchertown Community Band.
Details
Summer 2019
Belchertown Common
Belchertown Community Band concerts are held on four Thursdays in July and August, on the Common in good weather, and at Belchertown High School when it's rainy. Concertgoers enjoy a variety of music including marches, showtunes, and patriotic songs.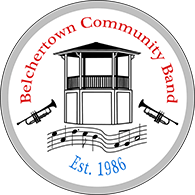 Belchertown Community Band
Nonprofit Organization
Established in the spring of 1986, the Belchertown Community Band is a non-profit corporation managed by a year-round volunteer steering committee.
The BCB has grown to 200 with an average concert band of 90. Audiences have grown from 75 to well over 500.
The group offers a rare opportunity in its mix of ages, genders, amateurs and professionals, town residents and representatives from 17 area communities.
We are blessed with the lovely, traditional setting for our concerts, which makes it ideal for families and picnics.